← Back to all posts
2021 in Review
December 31, 2021
5 min read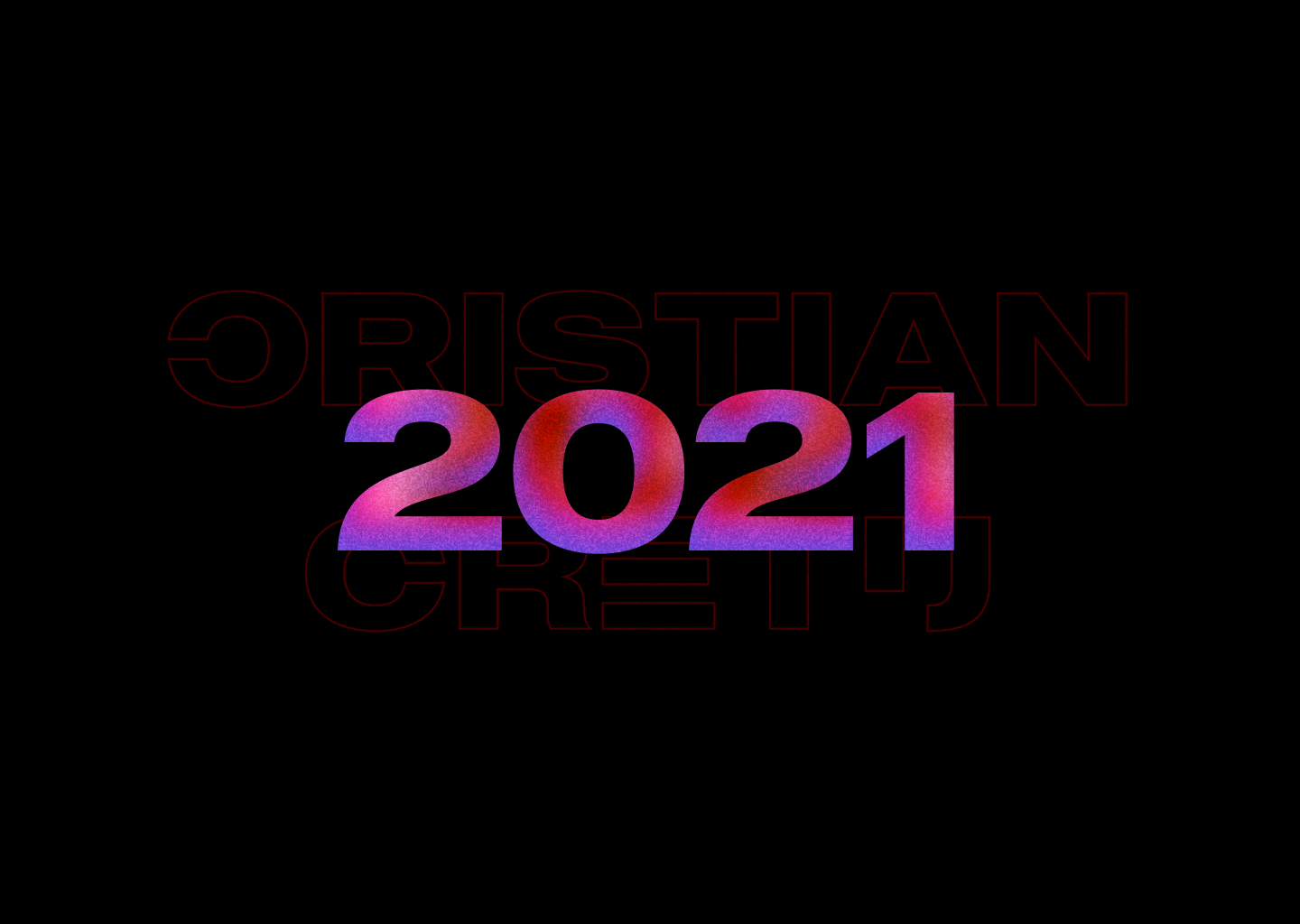 Intro
2021 has truly been an astonishing year. I changed my perspective about life and people in general while achieving most of my wishes.
This post wouldn't have been possible without the awesome people from Twitter: @jsngr, @julianlehr, @peduarte, @brian_lovin, @pacocoursey, @emilkowalski_, @raunofreiberg, @leerob, @ancashoria - from which I learned a fair ammount of programming and took a lot of inspiration.
Year summary
Knowing nothing about web development, I have started learning the basic steps. I liked the fact that I could combine my design skills with programming. For about three months, I made mostly basic websites for various purposes. Until March I focused a lot on olympiads: competitive programming and mathematics - in which I qualified at the national stage and progressed a lot.
Following that period, I tried ReactJs for the first time and was fascinated by its powers. Tutorial after tutorial, documentation after documentation, I liked the dynamic approach and the development experience. In April I accomplished one of my old dreams: getting a MacBook. Saving money for some time and Apple releasing the M1 Chip couldn't have been timed better. I'm grateful for it - it surely made my life a lot easier.
Changing the focus once again, I worked for about two months on our robot for the First Tech Challenge Competition. A lot of research, prototyping, CAD designing and engineering were made alongside my team. Unfortunately, we didn't qualify for the next stage due to a robot component breaking a few days before the start of the contest. Contrary to that, I won the Dean's List Award, selected from over 300 students from Romania - in recognition of leadership and dedication for leading the team to increase awareness for First and for achieving personal technical expertise and accomplishment.
Thinking that I need to level up the programming skills I took Harvard's CS50. I still believe that this is the best course ever made, as it helped me a lot to reach my desired level. Made my first internet money. Started prototyping in SwiftUI for some time, then came back to React, as it had a flatter learning curve. Multiple side projects later, I transitioned to the back-end using Ben Awad's dream stack. Created some prototypes and planning to release a product next year.
Later that autumn I got hired by a good friend of mine to work on multiple projects. That marked exactly 11 months after I started to learn web development. Towards the end of the year, I have experimented with interfaces, design systems, and flexible components.
Media consumption
| Activity | Time |
| --- | --- |
| Sleep | 8:09 on average [2.987 hours in total] |
| Mac Screen Time | 6:11 on average [2.257 hours in total] |
| School | 5 hours on average [840 hours in total] |
| Music | 573 hours / 866 artists |
| iPhone Screen Time | 1:34 on average [571 hours in total] |
| Youtube | 307 hours |
| Reading | 221 hours (37 books, publications) |
| Steam | 46 hours |
| Cycling | 36 hours [512 km] |
| Chess | 21 hours |
For anyone wondering, this statistic was made using some spreadsheets combined with Apple's buggy Screen Time and Strava.
Advice
I always thought that by helping others, you help yourself, so here are some of my takeaways from this year, including personal experience, books, and more:
Always work in Pomodoro sessions. Long studying sessions mean that you'll only remember the first 20 minutes and the last 20, and in between that you'll lose all the information.
To cut the learning curve, teach.
Ask questions. Ask the right questions.
Knowledge is not power. Knowledge times action is power.
Transform the FOMO into JOMO (Joy of missing out).
A clean environment is the best place to study.
Nothing is original.
You're only going to be as good as the stuff you surround yourself with.
It's always your job to get yourself an education.
Be sincere. Do not promise anything that you cannot deliver.
Sharpen the saw before you do anything else.
Talk about your own mistakes before criticising the other person.
Begin with the end in mind.
Don't break the chain. We work because it's a chain reaction, each subject leads to the next. Use the end of one project to light up the next one.
Creativity is not a talent. It's a way of operating.
Work is never finished, only abandoned.
Be kind.
Go make that stuff.
Thanks for reading. I hope 2022 is going to be a great year for everyone. WGMI.